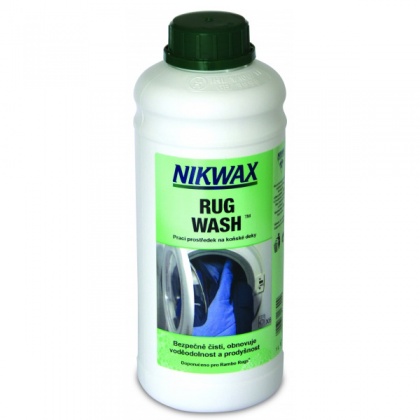 Rug Wash
Rug Wash
Detergent for dog clothes
Code:
U 0108
Category:
Maintenance
Special detergent for washing all animal blankets and clothes (eg. horse blankets, dog clothes, etc.).
Safely cleans, restores the breathability and water resistance of the material.
If a waterproof blanket or dog clothes loses its water resistance, it also loses its breathability. This creates moisture between the fur and the fabric, which cools the animal and causes its discomfort, which can also be the cause of the disease. Therefore, to ensure the comfort of your large or small pet, water resistance must be maintained on the outer fabric of the blanket or suit. Therefore, use Nikwax Rug Wash for washing, which will revive water resistance.
After the water resistance is completely worn out, it will need to be restored with Nikwax Rug Proof.
Information
1. For hand washing with Nikwax Rug Wash, use a brush and dilute 1 part Rug Wash with 2 parts warm water. For washing in the washing machine, use a prewash that rinses the clothes thoroughly. Remove any detergent deposits from the detergent dispenser.
2. Shake well before use. Even application is very important for the distribution of active substances.
3. Put 1 piece in the washing machine. Make sure that the washing machine is large enough to allow the laundry to move freely in the drum. Use 150 ml per piece.
4. Select washing in warm water, according to the manufacturer's label. This is followed by rinsing.
5. Allow to air dry or, if permitted in the washing instructions, use the dryer to dry at low temperatures.
Note:
Remove all old powder residue from the washing machine drawer.
Concentrated Nikwax Rug Wash can be applied directly to heavily soiled areas and greasy stains before washing.
---
Choose size
Similar Products
Wool Wash
from 5.74 EUR
Tech Wash
from 2.35 EUR
Softshell Proof Spray-On 300 ml
from 8.87 EUR

Shop:
SOFA Dog Wear
Strojírenská 259/16, 155 21 Praha 5 - Zličín
Czech republic
+420 734 493 214
Operator of this e-shop:
SOFA Dog Wear PRODUCTION, s.r.o.
ičo: 03841421
dič: CZ03841421
All Rights Reserved for Jana Halenková, www.sofadogwear.eu - office@sofadogwear.eu | design: kafes33 | developed: Dominik Turchich