Hachico BULL
Hachico BULL
Softshell sports jacket for Bull type breeds
Code:
B 1501
Category:
Bully Line
Sport lightweight softshell jacket designed for active dogs. Simple and comfortable to put on without any fastening.
Back part and collar are made of thick softshell in bright colours. Belly part and side part are made of finer, more flexible softhell in black which makes the dressing up easy and comfortable. Suit is fitted with decent reflective elements.
This shape of suit is suitable for all breeds of dogs with sport body, especially for AST, APBT, ABT, SBT and others.
How to choose the right size?
See the table in the gallery of the product. The "A" (RED) is the backlength of the dog. It´s measured from the shoulders to the point before the beginning of the tail. Don´t measure the neck, don´t measure the tail! The "B", "C", ... (BLUE) describe the real measurments of the suit (not of the dog!).
Measure the backlength and choose the corresponding size. Then control the other meausurmentas, if their will fit to the body of your dog.
Don´t forget to check the pictures: you will see how the suit should fit on the dogs body and also for which type of dogs it is addressed and what type of body and tail the dogs on pictures have.
Information
Produced by SOFA Dog Wear PRODUCTION, s.r.o., Czech Republic
Softshell DT-048 (membrane 10/3) + Softshell 100% PES/TPU + 100% PES
Do not tumble dry or dry in sunlight.
Do not iron over reflective elements.

Do not use fabric softener.
---
Choose size
Similar Products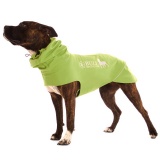 Gippy
from 56.09 EUR
Gippy Army-rain
from 53.7 EUR
Hachico RR
from 44.35 EUR

Shop:
SOFA Dog Wear
Strojírenská 259/16, 155 21 Praha 5 - Zličín
Czech republic
+420 734 493 214
Operator of this e-shop:
SOFA Dog Wear PRODUCTION, s.r.o.
ičo: 03841421
dič: CZ03841421
All Rights Reserved for Jana Halenková, www.sofadogwear.eu - office@sofadogwear.eu | design: kafes33 | developed: Dominik Turchich