Dog collar tassel - double, Red
Dog collar tassel - double, Red
Luxurious tassel not only for dog collar
Code:
O 0702 0905
Category:
SOFA Tassels
Beautiful dog collar tassel made of leather, beads and metal parts, attachable by snap hook. Make your dog look stylish or use it for your bag, mobile phone or whatever you like.
10 cm tassel + 3 cm nickel snap hook.
Length of the tassel may vary slightly (± 1 cm)
Information
Produced for SOFA Dog Wear PRODUCTION, s.r.o., Czech Republic
Leather, plastic and metal components.

---
Choose size
Similar Products
Leather Collar with running sighthounds grey - RED
from 29.3 EUR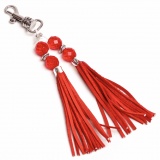 Dog collar tassel - double, red
from 9.34 EUR
Wide leather collar – red/black
from 32.91 EUR

Shop:
SOFA Dog Wear
Strojírenská 259/16, 155 21 Praha 5 - Zličín
Czech republic
+420 734 493 214
Operator of this e-shop:
SOFA Dog Wear PRODUCTION, s.r.o.
ičo: 03841421
dič: CZ03841421
All Rights Reserved for Jana Halenková, www.sofadogwear.eu - office@sofadogwear.eu | design: kafes33 | developed: Dominik Turchich